200 Years of Mayorships that Shaped the History of Florence, Alabama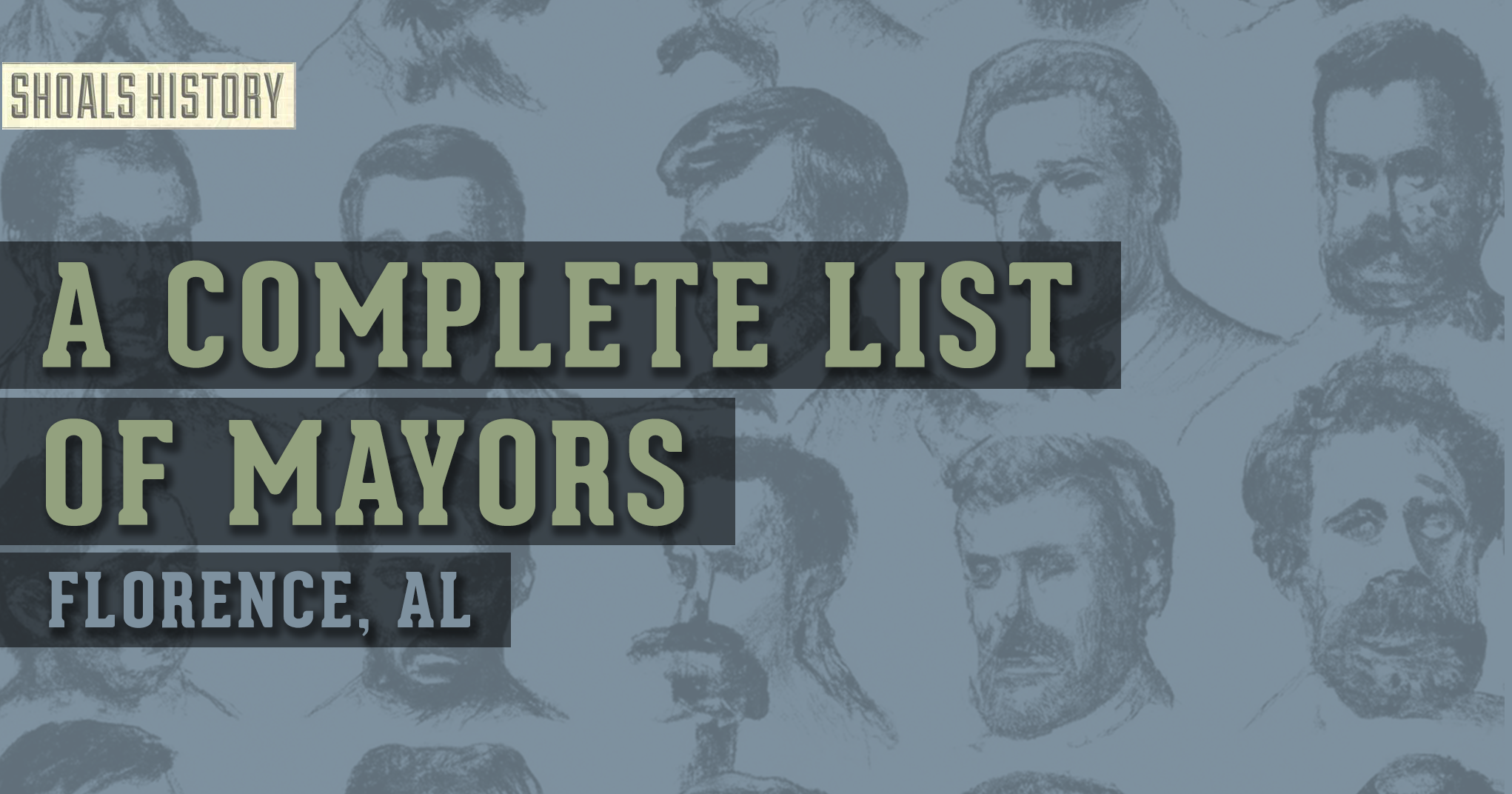 Florence, Alabama is a city steeped in history, with a rich heritage that has been shaped by a diverse range of individuals over the years. Since its incorporation in 1826 (although founded in 1818), the city has had 37 mayors (some serving more than once), each of whom has left their mark on the community in different ways. From the earliest days of settlement to the present day, these mayors have worked tirelessly to guide the city through both difficult and prosperous times, and their contributions have helped to shape Florence into the vibrant and dynamic place it is today.
As we look back on the history of Florence, it is important to remember the many individuals who have played a key role in shaping its development. From the visionary leadership of its early mayors to the more recent efforts to promote growth and innovation, these individuals have left a lasting legacy that continues to shape the city to this day.
In the list below, we have included the names of all mayors of Florence, Alabama since its incorporation. Each of these individuals played an important role in shaping the city's development and contributing to its growth and prosperity:
Every Mayor of Florence, Alabama since 1826
1826 - 1828 •

Alexander Hamilton Wood

1829 - 1830 • George Boggs, Jr.
1831 - 1832 • James B. Irvine
1832 - 1833 • William W. Garrard
1834 - 1837 • Alexander Hamilton Wood
1837 - 1838 • George W. Snead
1839 - 1852 • John Simpson
1853 - 1860 • George W. Snead
1861 - 1867 • James Brock
1868 - 1869 • James Bennington Irvine (son of James B. Irvine)
1869 - 1870 • Neander H. Rice
1870 - 1871 • William D. Hamner
1871 - 1873 • Neander H. Rice
1873 - 1874 • B. P. Joiner
1874 - 1879 • William T. Brock
1879 - 1888 • Zebulon P. Morrison
1888 - 1897 • Robert Andrews
1897 - 1901 • John Bedford Weakley, Jr.
1901 - 1910 • Andrew E. Walker
1910 - 1912 • Cyrus W. Ashcraft
1912 - 1914 • N. P. Morrison (son of Zebulon P. Morrison)
1914 - 1918 • M. M. Striplin, Sr.
1919 - 1920 • Will S. Eastep
1920 – 1921 • Delos H. Bacon
1922 - 1931 • Will S. Eastep
1931 - 1936 • Robert Lee Glenn
1936 - 1942 • William I. Collier
1942 - 1948 • Ellie F. Martin
1948 - 1951 • E. F. Yeilding
1951 - 1954 • Ellie F. Martin
1954 - 1957 • Walter Harrison
1957 - 1964 • Ellie F. Martin
1964 - 1966 • A. Carl Putteet
1966 - 1969 • Ben H. Craig, Jr.
1969 - 1978 • William E. Batson
1978 - 1979 • J. Hollie Allen
1979 - 1980 • James F. Hall
1980 - 1981 • J. Hollie Allen
1981 - 1984 • William E. Batson
1984 - 2001 • James Eddie Frost
2001 - 2004 • William D. Jordan
2004 - 2012 • Bobby E. Irons
2012 - 2016 • Mickey Haddock
2016 – 2020 • Stephen B. Holt
2020 - 2022 • Andrew Betterton