Rise & Fall of the McAlester Manufacturing Company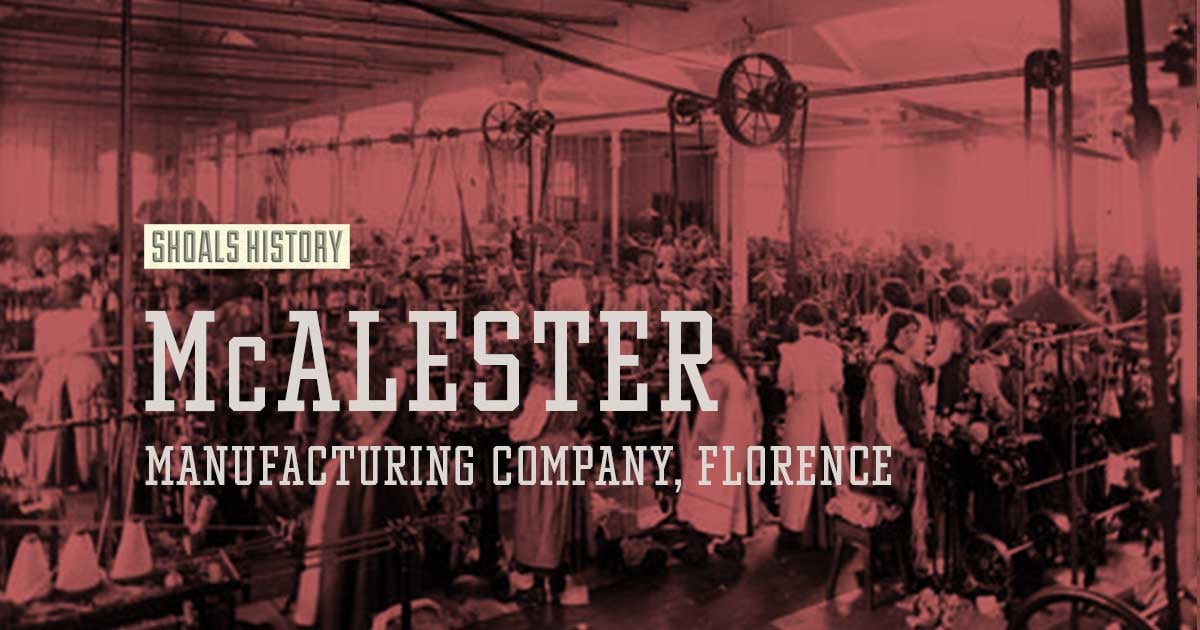 A Look into Alabama's Textile Industry History
The McAlester Manufacturing Company was established on March 28, 1889, in Florence, Alabama with a capital stock of $50,000. The officers were Maj. J.H. Field, President; Mr. D. Ledyard, Vice-President; Mr. J.W. McAlister, Secretary and General Manager; Mr. Edward Murphy, Superintendent and W.P. Campbell, Treasurer. The company was built on the dividing line between the Florence Railroad and Improvement Company and the Lauderdale Manufacturing Company. The former site of the factory is now home to a park and recreation area.
The McAlester Manufacturing Company produced jeans clothing and began operations in April of 1889 with a total of 48 sewing machines. The company was so ably managed by Mr. Murphy and J.W. McAlester that by August of the same year became so busy that it had to run every night until 10:30pm. Orders had increased to such an extent that they had to employ more workers.
The Lauderdale Hotel was built for the sole purpose of housing the workers of the jeans factory. Large enough to accommodate forty or fifty girls, who received $8 a week wages and paid $2.50 to board at the hotel. The company's success was so encouraging that it gained a fine reputation in the manufacturing of clothing, with only two months of operation.
The company's operations grew, and by October, the company had sent out $12,000 worth of jeans clothing to the Southern states. The employees were skilled, and most of them were girls who were well-versed in the operation of the sewing machines, which were run by steam. The company employed thirty hands, and three men were kept on the road during the season to sell the company's products. The success of the company was so great that the present capacity was insufficient for the next season's demand, and the factory had to be enlarged. McAlester Manufacturing Company began to produce overalls starting in December of 1889.
Despite its early success, the company did not continue to flourish for much longer. By 1894, the company had faced financial difficulties, and it was reported in The Commercial Appeal in Memphis that the company was forced to sell its factory to settle its debts. The McAlester Manufacturing Company had ceased operations, and its impact on the community had been fleeting.
Today, nothing remains of the McAlester Manufacturing Company or its facilities. The Lauderdale Hotel was destroyed by fire in 1894. The former site of the factory is now home to a park and recreation area. However, the story of the McAlester Manufacturing Company serves as a reminder of the important role that textile mills played in the development of the Shoals area, and of the challenges faced by workers and business owners alike in this rapidly changing industry.