An Exhaustive list of Shoals Area Saloons of the 1800s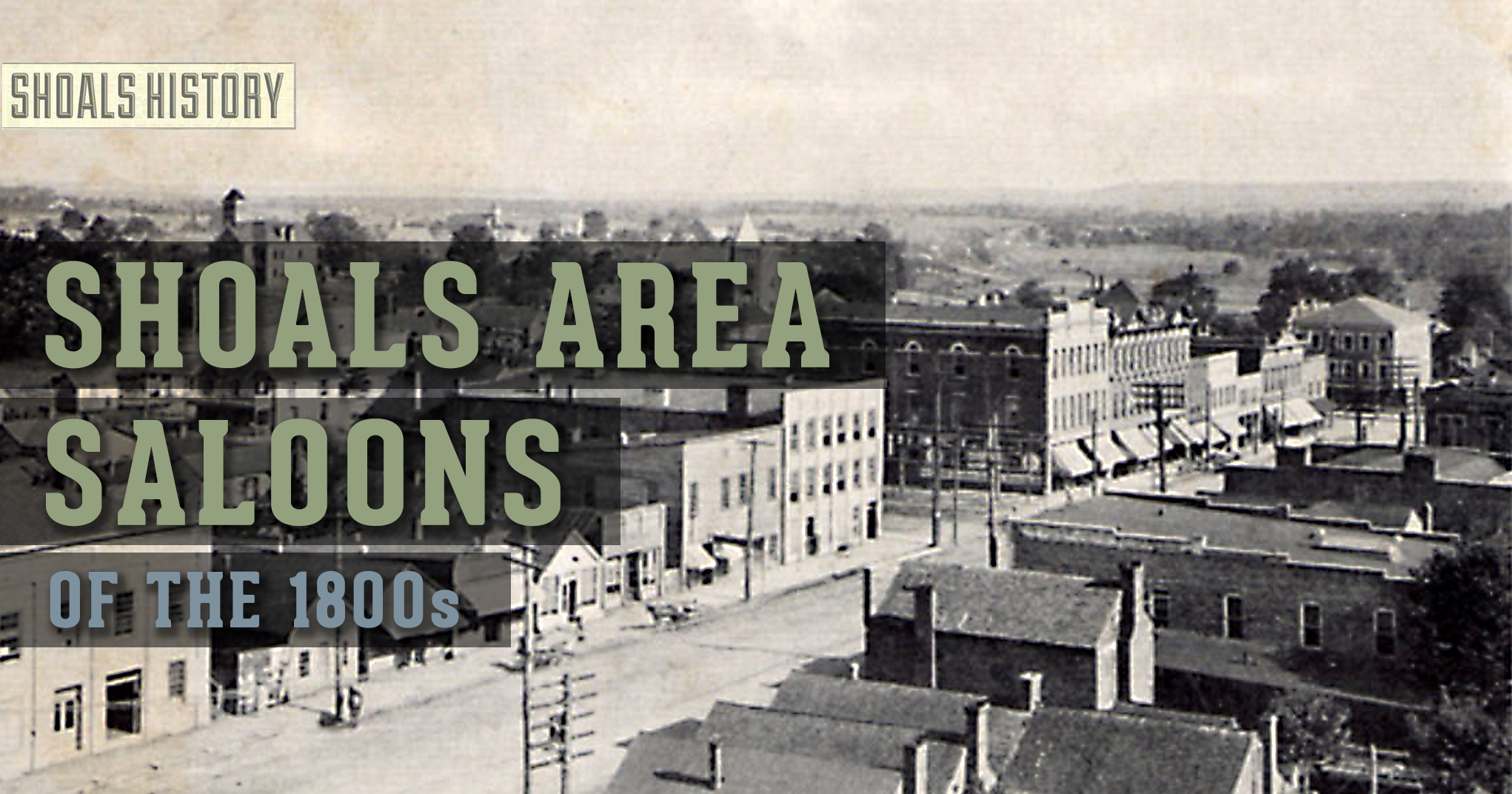 The Shoals area has been home to many saloons over the course of the area's history. Many of those were inside the hotels of the time. We won't go into much detail on those hotel saloons, as we're working on individual history lessons on each local hotel.
Many local business men made a name for themselves in the liquor business and owned or worked at many different saloons. We plan on expanding in separate articles about some of those gentlemen, but will provide a high level overview of many here.
The earliest saloon owner we found was J.E. Ellis who ran the saloon at Bailey Springs in 1859. Besides good bowling and billiards, the Bailey Springs bar stocked most of the finest liquors, tobaccos, cigars, and confectioneries of the day. By 1879, J.E. Ellis had interest in both the On Hand Saloon and the Good Luck Saloon in Florence.
Florence Alabama saloons
The Carlotta Saloon - 1871 - 1879. Started by Petty & White. Located opposite of the National Hotel. The Carlotta closed up in June of 1873 due to "little drinking and no money". Thomas E. Brown bought out, renovated, and reopened the Carlotta Saloon. Running it until 1879.
Andrew (A.J.) Blair ran a Florence saloon in 1879. Many saloons, such as Blair's, were simply called "Owner's Name" Saloon.

Red Cloud Saloon

- Opened in 1878. The building eventually held a shoe shop, and was torn down in the summer of 1899. Location unknown.
Knickerbocker Saloon - Owned by Joe Kessler; operated from 1878 until 1880 when Kessler moved into the Exchange Hotel and ran the hotel bar.

The On-Hand Saloon

- One of the longest running Florence Saloons, it was opened by business duo Ellis & Brown. That's the same J.E. Ellis of the Bailey Springs saloon mentioned earlier, and W.B. Brown. It opened in 1879 and operated for eleven years. W.B. Brown bought out Ellis' interest in the saloon shortly after it opened and began offering a free lunch every day from 11am-2pm. The On-Hand Saloon stocked over 5,000 cigars.
The Good Luck Saloon - 1880-1882; J.M. Ellis and James Blair
Cob-Web Saloon - 1889 - 1900; Jim Kilburn; Tom Haaf - This second longest running saloon in Florence was exclusively white, and proud of it. Originally located on West Court St, near Armory Hall. Stay tuned for a full history lesson on the racist Cob-Web Saloon owner, Tom Haaf.
Hugh Boyle Saloon - 1896 - 1899 - Located on Court Street, moved to Tennessee Street

White Elephant

- 1889 - 1890 - Owned by L. Biederman on Tennessee Street. Biederman later became the fire chief.
Barrel House - 1890 - 1893. Owned by Joe Black. Located in the old White Elephant saloon building on Tennessee Street. Full name of this saloon was the Tennessee & Kentucky Barrel House
Commercial Bar - 1894 - 1901. Owned by John Kasmeier and Aleck Locher on Court Street opposite the new courthouse. Advertised having the only white man's pool table in town.
A Floating Saloon - 1895. Operated by M. Ruth. Would float in the river just off from the Florence Wagon Works. Said to have run a thriving business, but was arrested for operating without a license.
Gem Saloon. 1900. Owned by Hooks, O'Brien & Co. Located on Court Street. Hayes Hooks was the bartender.
East Florence / Sweetwater saloons
East Florence Opera House - 1890. Saloon run by W.M. Schall. Later by Dan M. Weston

Louis Levine Saloon

- 1890. Located at the intersection of Royal avenue and Huntsville Road. The saloon burned down sometime before 1897 and Louis Levine mysteriously disappeared around that same time.
Sterling & Sledge - 1897. Owned by Sterling A. Sledge and John T. Word. Located on Huntsville road. Were notorious moonshiners.
Spread Eagle Saloon - 1898 - 1901. Owned by Emil Granberg and Albert McMurray in East Florence. Bartender in charge was C.E. Mitchell.

Kilburn's Saloon

- 1899. On Huntsville Road adjoining the drug store of C.A. Sullivan. Owned and operated by John Kilburn.
Sheffield Alabama saloons
Gambill's Saloon - 1889. Owned by J.B. Gambill.
Palace Saloon - 1889 - 1891. Operated by Sam Hanson. Located in the Mobile Block of Sheffield. Sam Hanson later moved to bartend at Crosthwait & Harris Saloon in Tuscumbia.
New Brunswick Saloon - 1890 - 1898. Corner of Montgomery Ave & 2nd. Owned by J.B. Lagomarsino, who was one of the largest property owners in Sheffield. Operated a restaurant called the European Kitchen at the same time as the New Brunswick. Stay tuned for a more detailed history lesson about J.B. Lagomarsino.
Betts Saloon - 1890 - 1892. Owned by T.L. Betts on Second Street in Sheffield

Cantrell Saloon

- 1899 - 1904. Owned by Cantrell & Wells, this saloon was one of the more violent in the Shoals area.
Tuscumbia Alabama Saloons
Ayolett Saloon - 1877. Operated by Frank Ayolett
Ruby Saloon - 1885. Located in Tuscumbia. No additional details.
Crosthwait & Harris - 1890. Bartender was Sam Hanson. Located on Main Street, Tuscumbia.
Shamrock Saloon - 1891. Owned by T.H. Gambill with Sam Hanson as the bartender. Located on the East side of Main Street in Tuscumbia.
DiRago Saloon - 1891. Owned by F. DiRago with Henry Harris as the bartender. Dirago also owned the nearby Boston Fruit Store.
Edmonson's Saloon - 1897. Located on Commercial Row in Tuscumbia near the North Alabamian newspaper.
Sowell Saloon - 1897. Owned by Joe Sowell and his brother. Began on the corner of Main & 6th and later moved to the Parshall House.

Palace Saloon

- 1899. Owned and operated by J.B. (Ben) Henke. Located at the first door West of Davis Jewelry House in Tuscumbia.

Central House Saloon

- 1904. Owned by Potts & Harland. Operated by C.F. Potts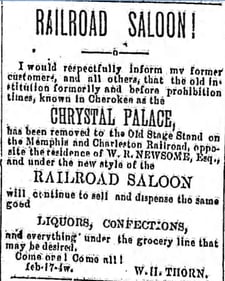 St. Florian & Cherokee Alabama saloons
Sample Saloon - 1872. Located on Wilson Place in St. Florian. Boasted an elegant cold water spring in the floor of the saloon.
Railroad Saloon - 1876. Owned and operated by W.H. Thorn in Cherokee, Alabama. Formerly called the Chrystal Palace, Thorn moved his saloon outside of Cherokee limits when the area banned liquor sales. Located at the old stage stand on the Memphis & Charleston Railroad.
Gardner's Saloon - 1879, Owned by Dr. Gardner in Cherokee, Alabama.