Thomas Hollingsworth & the Sweetwater Opera House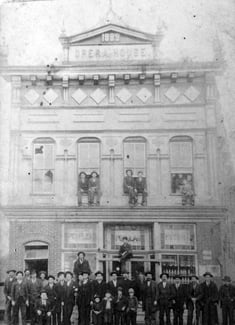 The Sweetwater Opera House was an iconic landmark in the East part of city of Florence, Alabama known as the Sweetwater District. Built by Thomas Hollingsworth in the late 1800s, the opera house stood as a testament to his success and entrepreneurial spirit. However, there is a dark cloud that looms over the history of the Sweetwater Opera House and Thomas Hollingsworth.
Thomas Hollingsworth was born in Algiers, LA to parents of English descent. When Thomas was just 7 years old, his parents took him and moved back to England where he grew up and served 3 years and 3 months in the British army.
Hollingsworth was a prominent member of the Florence community and a member of the city council. He was known for his business acumen and his investments in real estate. By the 1890s, he had built over 15 structures in East Florence, including the Sweetwater Opera House, which was built at a cost of $8,000.
However, on the morning of Tuesday, February 3rd, 1891, Thomas Hollingsworth was found dead in a ditch. The circumstances surrounding his death remain a mystery to this day. After attending a city council meeting on Monday night, Thomas headed for his home in East Florence with D.M. Wilson in Wilson's buggy since they both lived in the same direction. The two men stopped off at Schall's Saloon for a few drinks and stepped back outside to find their buggy stolen.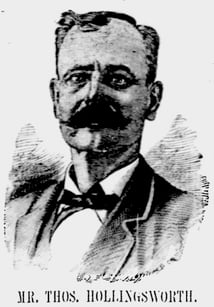 They both acquired horses from nearby Calahan's stable and went in pursuit of the stolen buggy. Once they arrived in Sweetwater valley, each man went to their respective homes to inform their wives that they would be later than usual due to the pursuit of Wilson's stolen buggy. Planning to meet up on Huntsville Road at Sweetwater Heights, Hollingsworth was never seen alive again. Wilson failed to find his friend and returned home.
On Tuesday morning, Hollingsworth's body was discovered in a gully beside Huntsville Road, face down in the mud. A physician by the name of Dr. Kernachan, who viewed the body, stated "the cause of death is to have been a fall, producing unconsciousness and suffocation by drowning." Thomas Hollingsworth's body was buried in the city cemetery the following day.
The circumstances surrounding Hollingsworth's death have never been fully explained. Some speculate that he was murdered, while others believe that he simply fell and drowned in the gully. The mystery of his death has only added to the intrigue surrounding the man.