Stafford's Corner: A Look Back in Time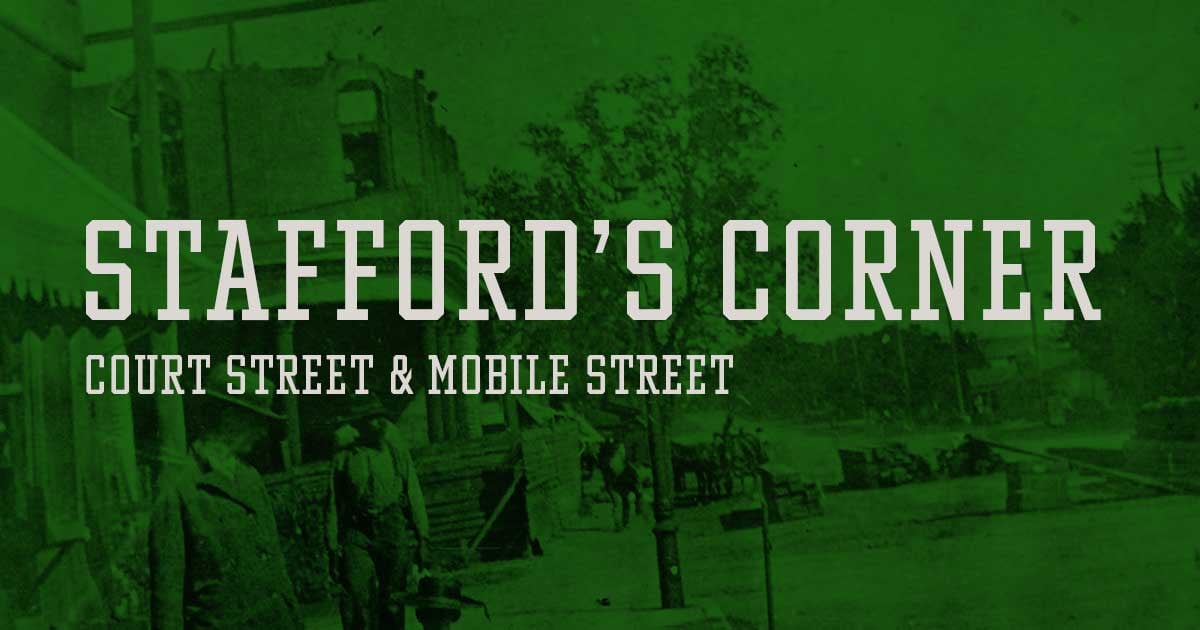 The Stafford Block, also referred to as Stafford's Corner, has been an important part of Florence, Alabama's history for more than a century. Its earliest mention dates back to January 1, 1858, when C.A. Tenge's saddlery was located on Main Street opposite the Peytonia Livery Stable and two doors south from Stafford's Corner. Stafford's Corner was the intersection of Court Street and Mobile Street, and it was owned by Stafford & Reid, Inc.
Over the years, various members of the Stafford family have been associated with the block, including Samuel C. (S.C.) Stafford, Caleb A. (C.A.) Stafford, and Abel C. Stafford. A notable mention in the newspaper of 1861 referenced a shooting that happened inside Mr. S.C. Stafford's store. No more detail on the shooting is known.
The block was home to many businesses over the years. On April 29, 1897, Mrs. Alice Carlson advertised her millinery shop at Stafford's Corner on Court Street. Meadow & Sharp, dealers in staple and fancy groceries, had a store in the Mobile Street end of Stafford's Corner in 1889 and advertised it in a local newspaper. The Florence Gazette moved its offices to the block on February 1, 1894, specifically, upstairs over the dry goods store owned by Mr. Jones.

Prior to the Gazette relocating, in early 1890, The Florence Herald announced that it would move its editorial, press, and job departments to the Stafford Block, which was being remodeled and fitted up expressly for the newspaper. The move was necessary due to the great increase in business and the need for more workrooms.
Beginning in late 1871, Professor Theo. Colere taught French, Italian, German, drawing, and oil painting in his business room, No. 9, over S.C. Stafford's store. The block continues to play a vital role in Florence, Alabama's history to this day. Now housing the Southall Drug building which was constructed in 1900.